Visit Escalation allows practice administrators to identify and enable specific visit types to escalate to a specified group of providers if the patient wait time exceeds practice standards.
When should I use it?
When you have patient wait-time agreements for your patients.
When you have different groups of providers that can see a patient when the patient's been waiting too long.
When you want shift-supervising providers available for backup when visit volumes increase.
How does it work?
Administrators determine if a provider will be the primary provider or a part of a provider group for a visit type. Then, if a patient's wait time exceeds the maximum defined wait time in the original provider's waiting room, alerts go to the selected provider or provider groups.
A patient using the on-demand visit option submits a visit request and appears in a provider's waiting room.


When the patient's wait time exceeds the default max response time, the system alerts the provider group identified in the first visit escalation level.


If the patient exceeds the max response wait time for the first visit escalation level, the system alerts the next provider group identified in the second visit escalation level. This process continues until a provider starts the visit or no other visit escalation levels are defined.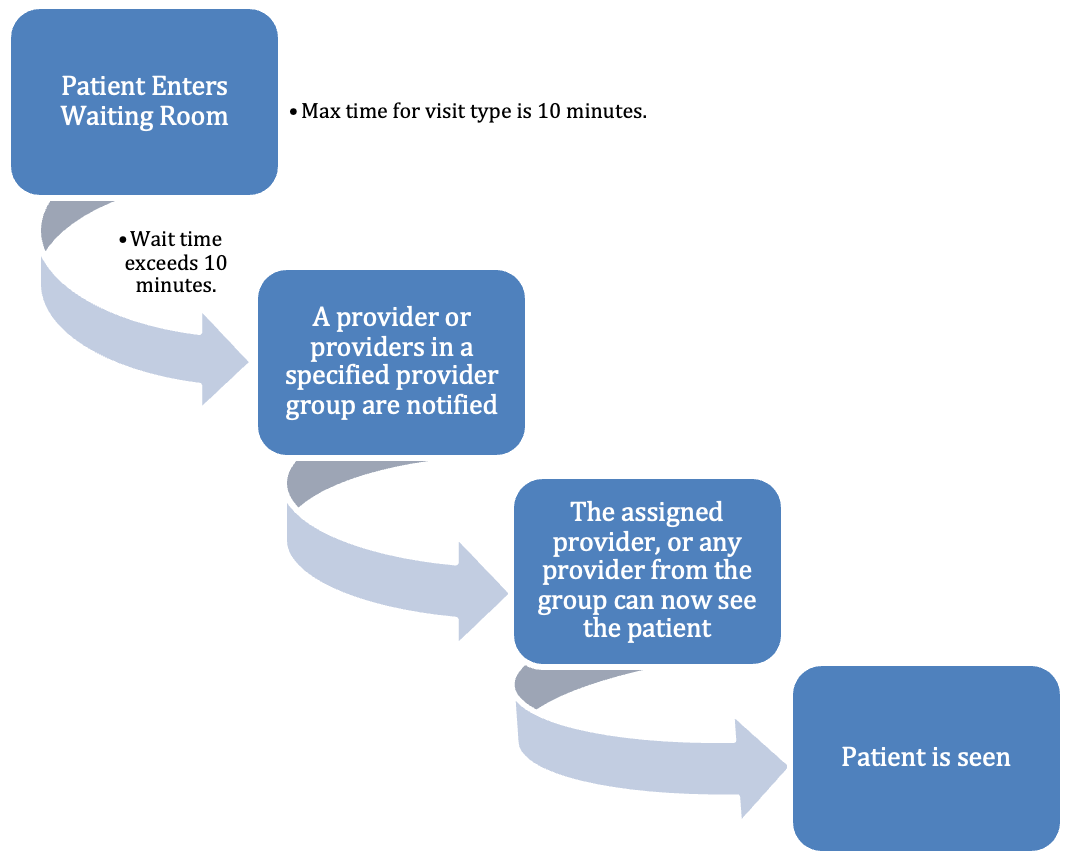 How are providers notified?
If a provider is a member of a provider group associated with a visit escalation level, they will receive one or more of the following four alerts depending upon how their account is configured:
Audio alert if the provider is in the same practice's waiting room where the patient has reached max response time


In-app banner alert display no matter which practice provider is currently in

NOTE: A provider can ignore the in-app banner or switch practices to pick up the visit with the patient.


SMS (text) to the phone number provided


Voice notification to the phone number provided
How do I set up Visit Escalation?
Your customer success representative will need to configure this feature for you. Have the following information ready:
A list of providers to assign to provider group(s)


A list of the visit types to associate with visit escalation levels
For each provider group, let your customer success rep know whether the patient should round robin to one provider before alerting the others.


Still Have Questions?
We're here to help! Please contact eVisit Technical Support at (928) 297-2294 or email us at support@evisit.com.