This guide explains the timing settings for visit types, visit kinds, scheduling buffers and intervals, and alerts within eVisit. These settings help you manage patient visits and keep your schedules moving.
Timing Settings for Visit Types
Not every visit type is the same. Some are more complicated and take longer than others. Each visit type can have its own timing configuration. You can find the timing settings in each specific visit type. To do so:
From your admin dashboard, click Visit Types


Fig. 1





Locate the visit type you want and click Edit


Fig. 2





Click Edit Visit Type


Fig. 3



You'll find the nine timing options in the Visit Settings, Scheduled Visits, and OnDemand Visits sections:


Fig. 4





Fig. 5





Fig. 6



Table 1
Setting

Scheduled On-Demand

Definition

Default Value

Minimum Value

Required

Estimated Duration
Minutes

Scheduled

Time each scheduled time-block is set for the patient.

15

5

Yes

Estimated Wait Time Minutes

On-Demand

Displayed wait time for each provider on the Select a Provider page.

6

5

No

Max Respond Time Minutes

On-Demand

Time a patient waits for requested provider to start the visit – then other providers in the practice are notified a patient is waiting.

20

0

Yes

Max Visit Duration Minutes

Both

Time an active visit will last before it disconnects.

180

60

Yes

Reschedule Prompt Interval Seconds

Scheduled

Time (in seconds) that displays in a message window that asks patient if they want to continue waiting or reschedule their visit.

None

60

No

Scheduled Visit Expiration Minutes

Scheduled

Time allowed for scheduled visit before it expires if a provider did not join.

180

60

Yes

Scheduled Visit Buffer Minutes (for patients)

Scheduled

Time a patient or scheduler has before a visit can be scheduled. For example, if this interval is set to 30 minutes and a patient logs in at 1:45 to schedule an appointment, the first available time they would see (if it's not already taken) would be 2:15.

30

5

No

Submitted Visit Expiration Minutes

On-Demand

Time an on-demand visit expires after submission if the provider didn't join.

180

60

Yes

Visit Minimum Wait Time Minutes

On-Demand

Time displayed to a patient on the Select a Provider page indicating estimated wait time.

None

5

No
Timing Settings for Visit Type Memberships
These timing settings override the Visit Type timing settings. This means, providers can create their own timing configurations per visit type.
To access the visit membership timing settings, access the visit type, click Memberships (A), then click Edit (B). Scroll to the Timing section.
Fig. 7

The visit type membership refers to the timing preferences which are completely optional and are for a specific provider by specific visit type. In the example below, this provider has a different timing configuration compared to the visit type configuration which appears under the visit membership timing field.
Fig. 8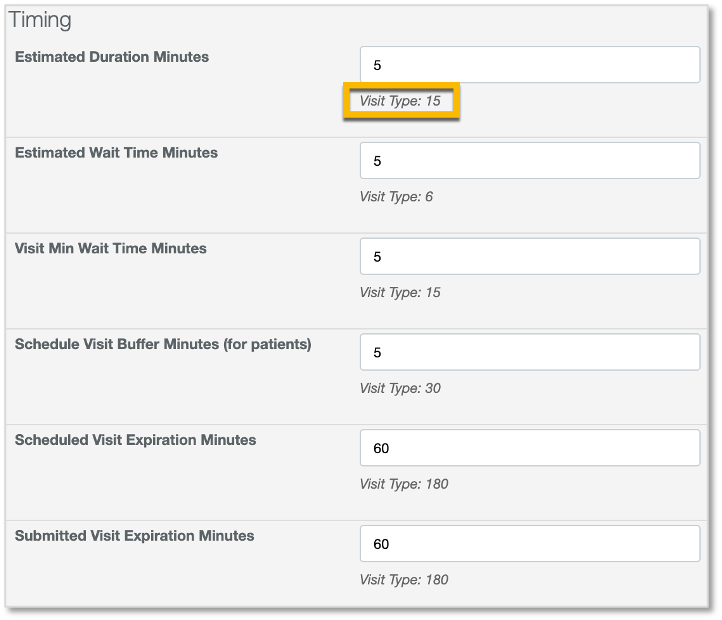 Timing Settings for Visit Escalations
You can mark a visit type as suitable for escalation. This means if a patient waits past a predetermined period, a specified group of providers will receive notification that the max response time has exceeded, and patient has yet to start their visit. The patient then becomes accessible from their respective waiting rooms.
The Max Respond Time is set in the Visit Type. If you want to mark certain visit types as suitable for escalation, please contact your Customer Success Manager so they can configure it for you.
Fig. 9

Still Have Questions?
We're here to help! Please contact eVisit Technical Support at (928) 297-2294 or email us at support@evisit.com.