As a CustomerAdmin, you can create new practices for your organization and manage existing practices.
In eVisit, your organization, whether a multi-specialty enterprise with locations across the country, a regional hospital, or an urgent care group, is called a practice. The designated main location is the Parent practice, while all other locations are called Child practices.
This guide will show you:
How to create a new practice
Knowing how to create new practices in eVisit is vital as your organization grows. Before creating a practice, you must identify the user who will become the practice's owner. Often this is not the actual owner of the organization, but an executive or manager who oversees your organization's telehealth or IT department. If it is not you, make sure you have their correct email and contact information.
To create a new practice, follow these steps:
Navigate to your Admin Dashboard
In the Search Practices box, click New Practice


Fig. 1




In the New Practice page, enter the name of the practice
Refer to your organization to determine a naming convention
Next, enter the practice's handle
Note: This is used in creating the unique URL specific to the practice.
Example: unique-practice-name.evisit.com. This will be the web address your patients will use to access your eVisit platform.
If you're unsure what a good handle would be or need assistance creating it, contact your Customer Success Manager.
Select a Practice Type that best describes the practice you're creating from the dropdown list


Fig. 2





Under Practice Type, you may check any of the boxes that apply to your practice type


Fig. 3



Allow availability provider search – Select to allow providers to see other providers' availability in that practice
Allow scheduling provider search – Select to allow providers to view other providers' schedule
Allow dependent older than 18 – Select to enable a dependent over the age of 18 to schedule without their guardian
Allow visit cancel reason – Select to show patients a prompt that asks them to choose the reason for cancelling their visit
Visit escalation levels enabled – Select to turn on your pre-configured call tree for visit types identified as in need of an escalation workflow

Note: Please contact your Customer Success Manager for more information and
assistance with configuring escalated visit types and call trees.
In the Owner field, start typing the name of the user

A list of matching results appears.


Fig. 4



From the matching results, select the user


Click Add New Address and enter the practice address


Fig. 5



If you would like to limit the practice only to accept patients from specific states (Geoblocking), click inside the States Served field and select the states

The default is All Locations. To add specific states, click inside the field and select from the list.


Fig. 6





Check the Always Geoblock checkbox if you want patients to have to verify their location each time they log in to eVisit


Fig. 7



Click Create Practice
How to search for a practice
If your organization has many practices that you manage, using the Search Practices filter can save you time.
Note: After searching for and finding a practice, marking it as a favorite can also save you time. Instructions on how to make a practice a favorite are at the end of this guide.
From your dashboard, go to the Search Practices filter enter the practice's Name, Handle, or Practice ID, and click Go.
Fig. 8


An alternative method to search for a practice can be accomplished by going to the main navigation menu and:
Click Practices


Fig. 9




A list of the practices you are associated with will appear


Fig. 10



Scroll through the list, or on the right side of your screen, use the additional filters to search for a practice
Narrow your search parameters with NAME, HANDLE, PHONE, and KIND (practice type) filters. Each filter can be narrowed even further by using the Contains, Equals, Starts with, or Ends with modifiers.
Click Filter


Fig. 11




Matching results will appear.
At the far right of the preferred practice, click View


Fig. 12



How to edit a practice
Details about the practice may change, such as a new owner, address, or phone number. To edit details about the practice, complete the steps outlined below:
Navigate to the preferred practice


Click Edit practice


Fig. 13




Modify any of the fields, such as the office phone number, practice owner, and address


Click Update Practice when finished
How to clone a practice
Since many practice details of parent practices are identical regarding child practices (same owner, providers, main address, survey and chart questions, images, etc.), cloning the settings from an existing practice in your organization can potentially save you time if you need to create multiple child practices under the parent practice.
Follow these steps to clone a practice:
Search for and open the practice you want to import the settings to


Click View


At the top-right corner, find and click Clone Practice


Fig. 14




In the window that appears, type the name of the practice from which you want to copy the settings from


Fig. 15



In the example above, Regional Hospital will have the same settings as Regional Hospital – Behavioral once the cloning is complete.


Select the practice from the matching results


Click Clone to copy all the basic settings and preferences from the original practice

While the system creates the clone practice, a Processing Request message box will appear on your screen.


Fig. 16



A green confirmation banner will appear across your screen when the process is complete.

How to make a practice a favorite
To favorite a practice so you can access it anytime from your dashboard with one click, navigate to the practice and click inside the star icon in the header. It will change to gold signifying that you have designated the practice as a favorite.
Fig. 17



Fig. 18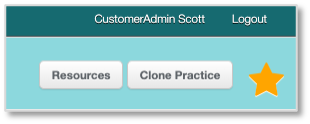 It will now be listed in your Favorite Practices box on your dashboard. Just so you know, favorites are saved chronologically, so the first favorite you ever saved will always be displayed at the top.

Fig. 19


Still have questions?
We're here to help! Please contact eVisit Technical Support at (928) 297-2294 or email us at support@evisit.com.