Welcome to telemedicine and eVisit! This guide will show you how to set up your eVisit account with step-by-step instructions. It's a very simple process that you'll complete in no time. So, let's create your account!
Before you can begin using eVisit you will need to create an eVisit account. This process starts at the Registration screen. Depending on how your provider's practice likes to do things, they will send you an email invitation or share their eVisit web address. Select the one that applies to you:
Welcome email: Some practices include creating your account or scheduling your first visit. This generates an email that contains a link to the login screen, where you will create a password and register your account.
Web address: Some practices prefer to have you enter a web address into your mobile internet browser that takes you to their eVisit log-in screen, where you will enter your email address, create a password, and create your account before you schedule a visit or see a provider.
How to create an eVisit account from a welcome email
You will receive a welcome email if your provider's office created your account or scheduled your initial virtual visit. This email contains a link that you will use to access the registration page and complete your patient profile. Follow these instructions to register your account and complete your patient profile:
Open the welcome email and tap the link inside



Fig. 1





On the login page, notice that your email address is pre-populated; create and confirm the password you will use when logging in to eVisit


Check the box to agree to the terms and conditions


Tap Create Patient Account


Fig. 2



Tell Us About You
Please look over your personal information in the Tell Us About You screen and enter any missing information. This information must be correct because this is how you will receive notifications about your account and visits.
Check pre-populated information for accuracy and update it, if necessary, then enter any required information that may be missing


Tap Continue



Fig. 3





You may upload a photo to personalize the account and let your provider put a face to your name

To upload a picture, tap Upload and select a photo from your device, or tap Skip to continue without uploading a picture.



Fig. 4





You may be asked if you want to add insurance information; if so, tap Yes to enter your insurance company information, then tap Continue when finished

The Welcome screen will display. Tap Continue to see your upcoming visit information.



Fig. 5



How to create an eVisit account from a web address
Instead of scheduling your first visit and sending you a welcome email, your provider's office may have given you a web address (URL). Typically, the web address has the practice's specific name, followed by evisit.com. For example, the-practice-name.evisit.com.
Open your mobile web browser, enter the web address, and press Go


In the Registration screen, enter your preferred email address


Create and confirm a password you will use when logging in to eVisit


Check the box saying you agree to the terms and conditions and the privacy policy


When finished, tap Create Patient Account



Fig. 6



Tell Us About You
The About You section is where you will provide details such as your name, address, phone number, and email. This information must be accurate as this is how you receive notifications and alerts about your eVisit account.
Tap directly in any field to type in information


When finished, scroll to the bottom of the screen and tap Continue



Fig. 7




Upload a Profile Picture
To personalize your account, upload or take a picture of yourself. This will help your provider connect with you before they start your visit – putting a face to your name!
Tap Upload



Fig. 8




Select an image of yourself or take a photo using the camera on your device


Tap Save, and then select Continue
Enter Insurance Information
If you are prompted to add insurance information, you can just tap Yes. Don't worry, though. If you select No, you can always return and add your insurance information later.
On the Welcome screen, tap Continue.

Fig. 9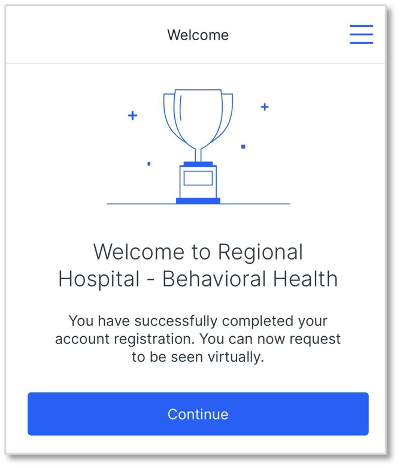 The Welcome screen will display. You may now request your first virtual visit with your provider, and you can add dependents as well.
Still have questions?
We're here to help! Please contact eVisit Technical Support at (928) 297-2294 or email us at support@evisit.com.