This guide will explain how to manage aspects of your eVisit patient account from your laptop or desktop computer. To learn how to update the specific sections of your account, click on the link below that best matches the section you need to manage:
Log in to eVisit and click the User Menu icon (downward arrow)



Fig. 1





Click My Account



Fig. 2





Click the section you want to update

Your My Account options appear on the left side of the screen. The options available to you depend on your provider's practice preferences and may not look exactly like the example in Fig. 3.



Fig. 3



How to update personal info
In the Personal Info tab, you can edit and update your name, address, phone number, and time zone. Click in the field you want to update, make your changes, and select Update at the bottom of the screen to save the changes.
This is also where you would add a dependent if needed. Click Add Dependent and follow the prompts to add your dependent.

Fig. 4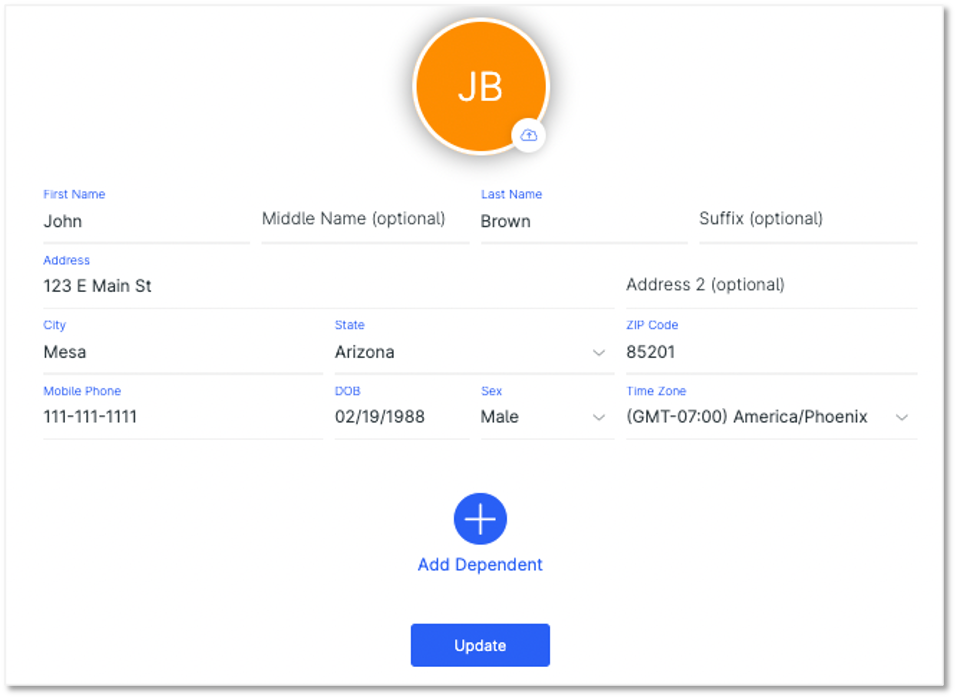 Insurance
Insurance benefits change. Employers offer new plans during open enrollments and if you pay for your own insurance, you may look for and find better coverage and premiums.
To add or update your insurance:
Select the Insurance tab from your My Account options
In the Insurance Company field, enter the name of your insurance company
Select your insurance company from the list of matching results
enter additional information, such as ID and Group number
Click Update to complete the process



Fig. 5



Allergies, Medications, Conditions, Procedures, Family History, and Questionnaire
Depending on how your provider's office has set up their medical history questions, you can edit and update your available medical history options by clicking opening the available section, and clicking Edit



Fig. 6





Click Show list



Fig. 7





Click the Add button (green plus icon) to add an item to your list
(To remove an item that is already on your list, click the Remove button- red minus icon)


Click Save



Fig. 8




Pharmacy
You may need to change your preferred pharmacy because you've moved or found one that you like better. If you need to change your pharmacy, follow these steps:
Select the Pharmacy tab


To choose a new pharmacy, enter the new address or zip code in the address field, scroll the list provided, or search the map (pharmacies that match the list and map will be highlighted)


Click the pharmacy you wish to make it your preferred pharmacy



Fig. 9



Click Update
Payment Method
Finally, if your provider's office requires a credit card (eVisit does not accept Apple Pay, PayPal, and cryptocurrency at this time) to be kept on file for billing, you can add, change, and update your card information quickly and easily!
From the user menu, click Payment Method


Click Update billing information



Fig. 10





Click Yes in the confirmation window to continue



Fig. 11





Update the name on the card, card number, expiration date, and the security code then, click Continue



Fig. 12



Agreements
Over time, you will be asked to agree to certain terms, conditions, and agreements. You can see when and what these agreements are in the Agreements tab.
If you would like to review your agreements, click the Agreements tab



Fig. 13



Click View to open the agreement you wish to review

The agreement will display showing the type of agreement, the date and time you checked it, and the wording of the agreement.



Fig. 14





Click Close to go back to the Agreements tab
Settings
In the Settings tab, you can update your password and email address, as well as your notification settings. Keep this contact information up to date because this is how you get notified of updates, appointment changes, and more.
From the user menu, click Settings


Click inside the field you want to update



Fig. 15





When finished, click Save Changes, Update Email, or Update Password, depending on what information you updated
Still have questions?
We're here to help! Please contact eVisit Technical Support at (928) 297-2294 or email us at support@evisit.com