You may want to change how you or your patients are notified in eVisit, for example, when visits are scheduled or canceled, when a patient enters or leaves the queue, etc.
In the notifications section, you will choose how you and your patients receive eVisit notifications and where to enable/disable system audio alerts.
How to select notification methods
You can receive eVisit notifications via email, text message (SMS), or phone call. You may wish to enable multiple notification methods to ensure you don't miss any important alerts.
To manage your notification preferences:
Open your User Menu, and click My Account



Fig. 1



In the menu on the left of the My Account page, click Notifications



Fig. 2





Enter or update your email and/or phone number



Fig. 3



Click the toggle button to the left of a notification method to enable it

For example, to enable Text (SMS)notifications, click the toggle next to that notification field. You will receive a text message when a key event happens in your eVisit practice.
How to add staff notifications
You can add and enable notifications for your staff members if you need to. By adding them, they receive the same notifications you do, such as when a patient cancels a visit or is in the waiting room.
Below your list of notification methods, click Add Notification



Toggle the notification on and enter your staff's phone number or email in

the window that appears; select a notification method; choose email, phone call, or text message
How to select what notifications to receive
Below your notification methods, select the notifications sent to you and/or a staff member and your patients.
By default, all notifications are enabled. A best practice is to prioritize notifications; otherwise, you and your patients will receive many notifications.
To disable individual notifications, uncheck the box to its left.

Fig. 4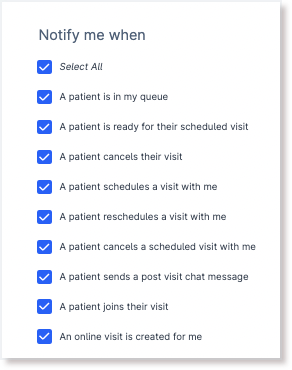 Fig. 5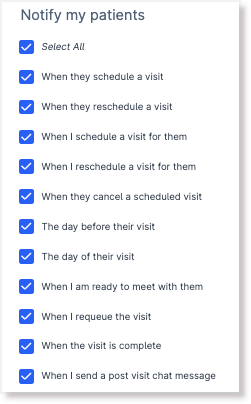 How to enable or disable audio alerts
In addition to email and text messages, eVisit provides several audio alerts that notify you of key events.
You can enable or disable the following audio alerts when:
You have a patient in your queue
eVisit logged you out due to inactivity
You receive a chat message from your patient
Someone joins or leaves a multiparty visit
To enable or disable an alert, click the toggle button next to the alert's name.

Fig. 6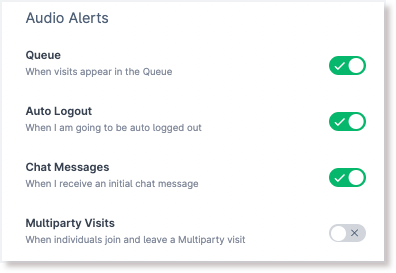 Still have questions?
We're here to help! Please contact eVisit Technical Support at (928) 297-2294 or email us at support@evisit.com.