There are many reasons you may need to have someone else join you and your patient during a visit. They may want a family member or caregiver to be involved, or they may need a translator. Perhaps you'd like another provider to be present for a consult. This can be done with the Attendees feature.
Up to six attendees (for a total of eight people) may be invited to join during the visit. They do not need to download the eVisit app, or have an eVisit account to join the visit.
From Your Desktop Computer
Click here to see mobile device instructions.
In the visit side-panel, click the Attendees tab


Click Add attendee




Choose how you want to invite the attendee



A. Voice Call




B. Email link


C. SMS or text link - check the box to send a text message


Click Send invite



Note: If you chose to call the attendee, they will receive a voice call. They will not have access to the video but will be able to hear you and the patient. If you chose to send a text message or email, the attendee will receive the invite and will be instructed to click the link. They will enter their first and last name, and agree to the terms and conditions and privacy policy before joining.


In the message that displays, click Allow to grant the attendee to the visit or Deny if needed



Now, the attendee will appear in the Attendee tab. You may invite up to six people to the visit.
How to manage attendees:
To remove attendees from the visit, click the Remove (red-phone icon) next to their name.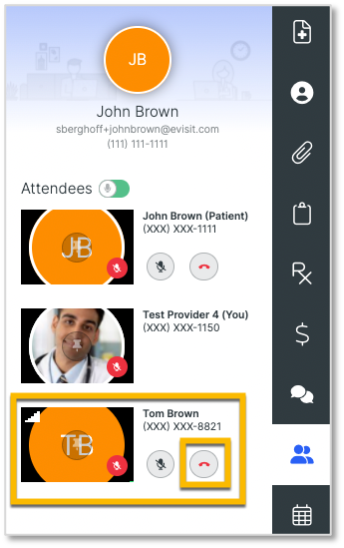 If you need to mute all attendees, above the patient's feed, toggle the microphone icon next to the word Attendees.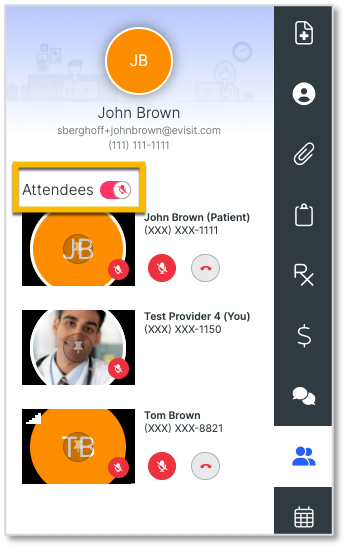 You can also mute/unmute individual attendees by clicking the microphone icons next to the feed.
From your mobile device
At the bottom right corner of your screen, tap the Attendees icon




Tap Add attendee




Choose how you want to invite the attendee



A. Voice Call




B. Email link


C. SMS or text link - check the box to send a text message


Tap Send invite


Note: The attendee you invited will follow the instructions provided and request permission to acce

ss the visit.




Tap Allow to grant the attendee access to the visit, or tap Deny if you so choose




The new attendee will now appear in the Attendees screen



You can manage attendees by using the icons next to each attendee.



A. Indicates the attendee has their microphone turned off




B. Allows you to mute the attendee from your side of the visit




C. Removes the attendee from the visit
Still Have Questions?
We're here to help! Please contact eVisit Technical Support at (928) 297-2294 or email us at support@evisit.com.