Depending how your provider and their practice prefer to see patients in eVisit, you can see your provider in one of two ways:
Some offices prefer to schedule all their patients' appointments. If your provider's office uses this method, just call them and request an appointment. Their office will take care of it for you.
See-Now Visit (like a walk-in visit at your provider's office)
Note: Because eVisit is highly configurable, you may see some steps that are not mentioned here. For example, if this is your first time requesting a visit you may be asked to choose a pharmacy, add insurance, and or a credit card, or fill out a health questionnaire. You may also be asked to confirm what state you are in.
Schedule Your Own Visit in eVisit
If you can schedule a virtual visit from within eVisit, follow these simple steps:
Log into eVisit


Click the Select button next to the patient who needs the visit

If you are scheduling a visit for your dependent, you will see their name listed below yours.

Fig. 1
Click Select next to the type of visit that best fits your needs

For instance, in the example below the patient can choose between a General Visit or a Medication Follow-Up visit.

Fig. 2


If there is only one choice, just select that one.

A. View the name of the visit type and view whether there are providers available to see you (Click the arrow on the left side to view a description of the visit type)
B. Review the associated cost (if any) and the estimated length of the visit
C. Click Select to choose the visit type


Select your provider

Fig. 3

A. View the provider's details, such as their name and practice
B. Informs you if the provider is available for a See Now visit, or available only for scheduled visits
C. Select Schedule

to schedule a virtual visit, (if the provider is not available for a scheduled visit, the button will be disabled)




Complete the Visit Information section with as much detail as possible - this will help your provider know more about the reason for your visit

Fig. 4


When finished, click

Continue




From the highlighted dates, choose the month and day you want for your appointment (A), scroll and select to find a time that works for you (B), and click Continue (C)

Fig. 5


Before scheduling the visit, review the details you've entered

A. Make sure all the information is correct; if not, click Edit to fix it
B. Check the acknowledge box
C. Click Schedule Visit

Fig. 6



Click I Acknowledge to confirm your details

Fig. 7



You will now see your Upcoming Visits page

Fig. 8

A. Upcoming Visits page
B. View any visits scheduled for today
C. Review details of your future visits
D. Reschedule an appointment
E. Cancel a visit
F. When your visit is ready to start, click Start Visit (it will remain inactive until 15 minutes before the scheduled visit time)
Requesting a See Now Visit
If you need an immediate visit, and your provider is available, you can request a See Now visit.
Follow the same steps above, but instead of selecting Schedule, select See Now.

Fig. 9



After you complete the intake steps, you will see a window telling you, "You're all checked in," then you will be taken to your waiting room.

Fig. 10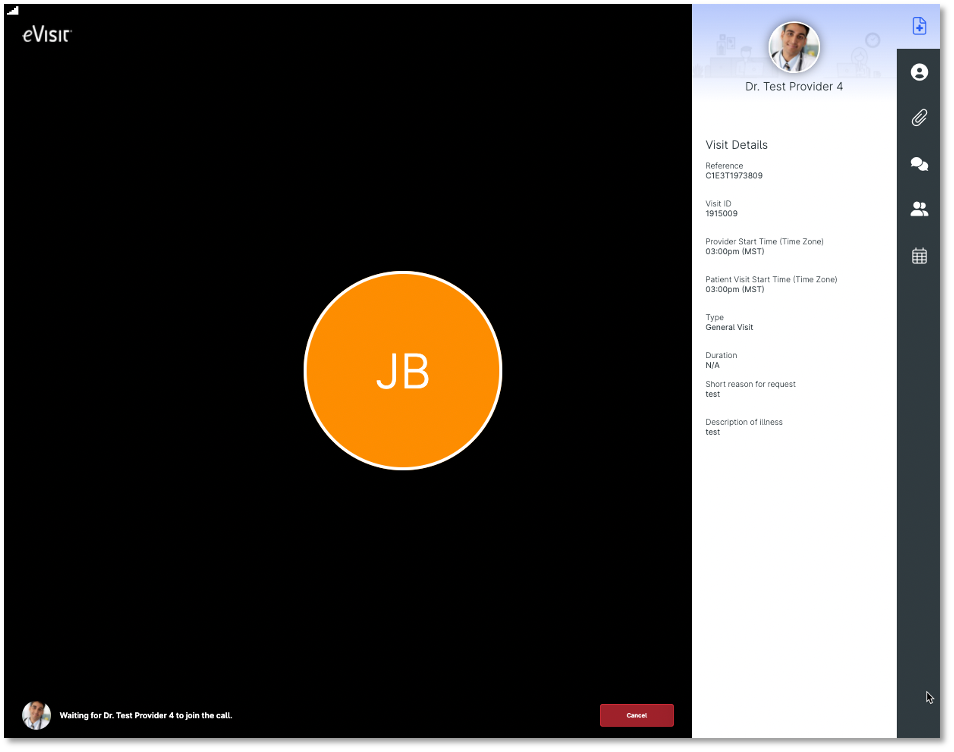 When your provider joins, your visit will begin.
Still have questions?
We're here to help! Please contact eVisit Technical Support at (928) 297-2294 or email us at support@evisit.com.