CHOOSE YOUR DEVICE & TEST YOUR EQUIPMENT
Use a device (computer or mobile device) with a working camera and microphone
Make sure your computer or mobile device is fully charged or plugged in
Confirm you can connect to the internet:

Wi-Fi connections, such as your home or office internet, are stronger than a cellular connection

To check audio and video quality before a visit, click here to run an equipment test
UPDATE YOUR DEVICE
Be sure your device's operating system is up to date.
CLOSE OTHER APPS
Close any apps that use your device's camera and microphone, such as Zoom, FaceTime, Spotify, and podcasts.
USE A RECOMMENDED BROWSER
Choose the correct browser for your device and make sure it's up to date with the latest version.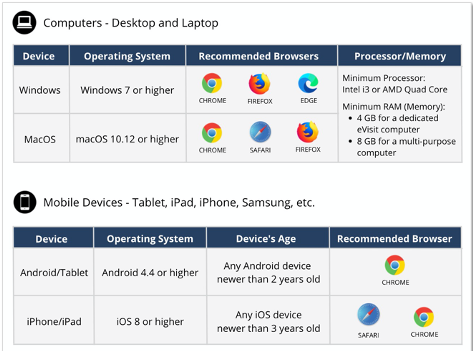 REMAIN IN THE WAITING ROOM
After logging in, do not navigate away from the waiting room or lock your device.
ENABLE YOUR AUDIO & VIDEO
When prompted, allow eVisit access to your camera and microphone.
If you experience audio/video issues while using the app, close the app and then reopen it
If you experience audio/video issues in the browser, tap the refresh icon to reload the page
ARRIVE ON TIME
Be ready and waiting to join your visit up to 15 minutes prior to the scheduled start time.
Come prepared with any questions or notes you wish to discuss with your provider.
FIND A QUIET SPOT AND LOG IN
Find a private, comfortable location with good lighting before you log in
Visits from your parked car are okay; be sure you are in a secure location with a good internet connection, and not driving or are a passenger in a moving vehicle
If you have a problem area or an injury, be sure it is easily accessible for you to show on video