Welcome to eVisit and the world of telemedicine! Your provider will be using eVisit as a way to deliver healthcare to you in a safe and secure way through the Internet.
eVisit is safe and secure. We are obsessive about your data security and are constantly upgrading and updating our security systems and encryption. eVisit is easy to use. You don't need special equipment or be a computer expert to use eVisit. eVisit can be used on your computer, smartphone, or tablet.
Creating Your Account
Creating an account is easy! Your provider's office should have provided you with a link that is specific to their organization. If you do not have this, please contact them. You will need this before you proceed.
Click on the link your provider's office sent you
Click the I don't have an account link on the login page


(this screen may appear different than what you see here, but it will be similar)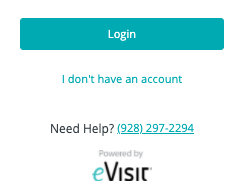 Enter your email address, create a password, then confirm the password by typing it in again,

Click in the I agree

box

Click the "Register

" button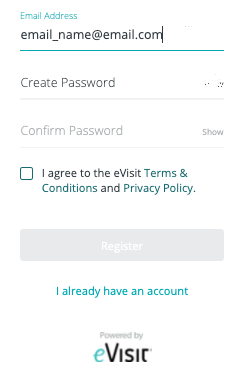 Tell Us About You
Make sure you fill in all the required fields in this section. If you don't it will result in you not being able to move forward and cause delays in you being able to see your provider!
Click Continue when you're finished.
Add a Profile Picture
Click Upload to add a picture of yourself to your account, or click Skip to do it later.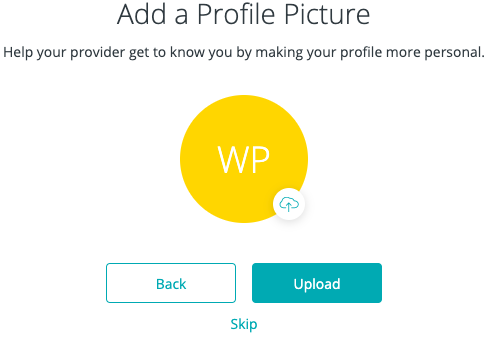 Welcome
Click Continue to complete your registration.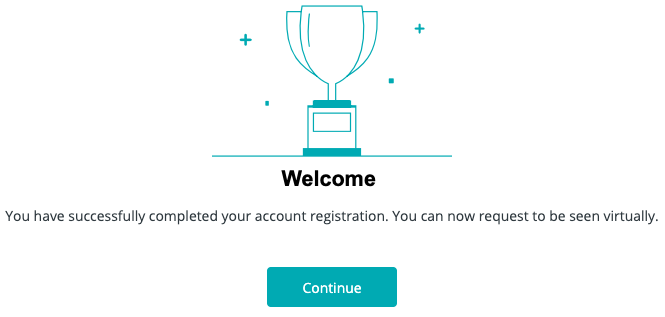 Congratulations, you're ready to request your first visit!
How do I schedule my first visit?
Your provider has set up the way they want you to schedule your appointments. There are a few ways to do it, and they're all easy to do.
Note: If you already have an appointment it will appear at the top of your screen. You can go ahead and answer any medical-visit information questions to confirm the appointment, but you won't be able to get into the waiting room until 15 minutes before your visit is scheduled.
Your Provider Schedules Your Appointments
Many providers prefer to schedule all their patients' virtual care appointments. If your provider uses this method, just follow their procedure to request an appointment. Their office will take care of it for you and you will receive an email/text notification containing the date, time and a link for your appointment.
Schedule Your Own Appointments in eVisit
To schedule a visit with your provider using eVisit, follow the steps outlined below:
1. Click the link you used to register or enter https://app.evisit.com in your browser's address bar and press Enter
2. Enter your email address and password; click Login
3. At the far right of the row displaying your name, click Select


4. Identify the Visit Type you need and click Select
6. Select your provider and click Schedule



To locate your provider, scroll through the list of provider names or use the Search field above the list. In the Search field, enter all or part of the provider's first or last name. A list of names will appear as you type. If you cannot find the provider you're looking for, they have not created availability for scheduling. Please contact your provider's office.
7. On the Visit Information page, respond to each question, then click Continue
You will be telling your provider why you are requesting the visit, as well as any other information their practice requires before you can schedule the visit; medical and family history, updates to personal information and insurance are just a few examples of what may be asked.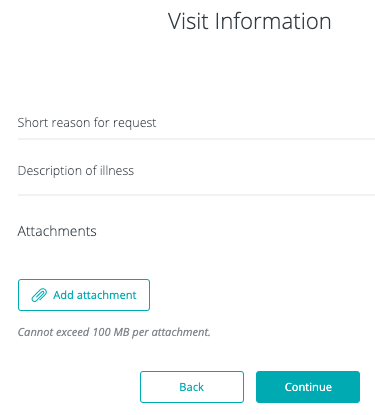 8. On the Schedule Visit page, select an available date (they will be highlighted) and an available time for your visit; then click Continue



If you're asked to select your preferred pharmacy, do so by scrolling through the list displayed and clicking on your pharmacy. You will then see the Review and Confirm page. If you're not asked to select a pharmacy, the Review and Confirm Page automatically displays.
9. On the Review and Confirm page, review the details you've just entered to make sure they are correct
10. Scroll to the bottom of the page and check the box to acknowledge these details are correct; click Confirm Visit
You will now see your newly scheduled visit on your Upcoming Visits page.
Request a See Now Visit
Log into eVisit
Click the Select button for the patient that is requesting the visit. If you have no dependents on your account, you will only see your name
Your provider may offer different types of visits. If so, click the Select

button next to the type of visit you want. If there is only one choice, select the one provided

If more than one provider is listed, scroll down until you find your provider's name and click the See Now

icon.

Complete the Visit Information section as to why you are requesting the visit then click Next
Confirm your visit request details, check the agreement box then click Confirm Visit

You will be placed into the waiting room.

Click

Okay

When your provider is ready to see you, they will start your visit.