If a deactivated user needs access to eVisit again, creating a new account is unnecessary. Their account can be reactivated. This will ensure that they can access any past data relating to their account.
To reactivate a user, follow these steps:

1. Locate the user you need to reactivate using the Search Users box and click Go

Fig. 1

Last Name

: Keep in mind that if others have the same last name, you will want to use this field in addition to email or phone.

Cell Phone: This may be the easiest way to locate the user; however, you can access more search fields by click Users at the top of the screen.
2. At the far right of the user's row, click View

Fig. 2

3. Click Edit User

Fig. 3

4. Locate the Email Address field and delete "_deactivated" from the user's email

Fig. 4

5. Scroll to the bottom of the page and click Update User

Fig. 5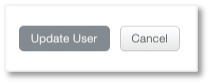 6. Navigate to the Scheduling tab and select Enable Scheduling. Click OK in the confirmation window.

Fig. 6

7. Click Practices & Memberships and click Add Membership

Fig. 7

8. Select the necessary visit types; this will make the user visible when someone else is scheduling them for a specific visit type

Fig. 8



Fig. 9
9. Click OK when finished
Note: To add more visit-type memberships, repeat the process.

Fig. 10

10. Finally, under the Notifications tab, you need to click Activate on all notification channels so they start receiving notifications from eVisit. After you click Activate, the option will display as Deactivate.

Fig. 11


Fig. 12

Still have questions?
We're here to help! Please contact eVisit Technical Support at (928) 297-2294 or email us at support@evisit.com