In eVisit, user accounts cannot be deleted because of HIPAA regulations, but they can be deactivated. Occasionally, you will need to deactivate a user and restrict their access to eVisit. This can occur for different reasons: a clinician or staff member leaves the organization, a temporary leave of absence, etc.
Not only will the user not be able to log in to eVisit, but their availability will not be visible to patients and staff, they will not be able to be scheduled for virtual visits, and they will stop receiving notifications from eVisit.
Note: Patient accounts cannot be deactivated.
To deactivate a user, follow these steps:
1. Locate the user you need to deactivate using the Search Users box and click Go
Email

: Is the quickest way to locate a user.

Last Name

: Keep in mind that if others have the same last name, you will want to use this field in addition to email or phone.

2. At the far right of the user's row, click View


3. Click Edit User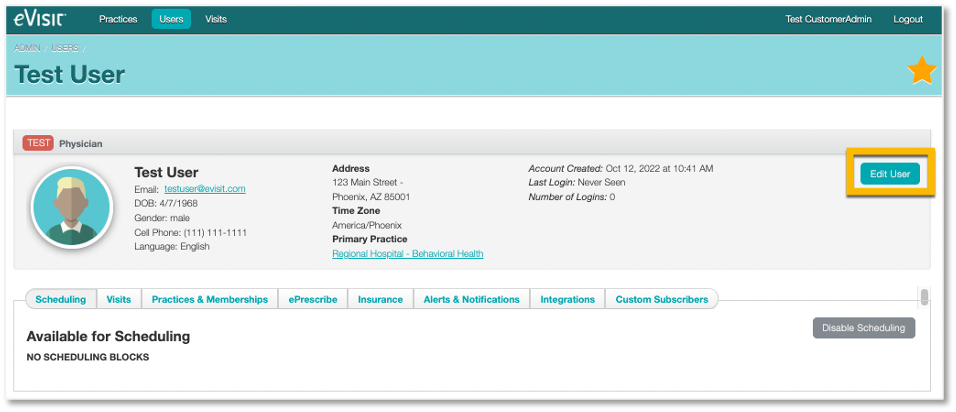 4. Click Deactivate

5. Click OK to confirm you want to deactivate the user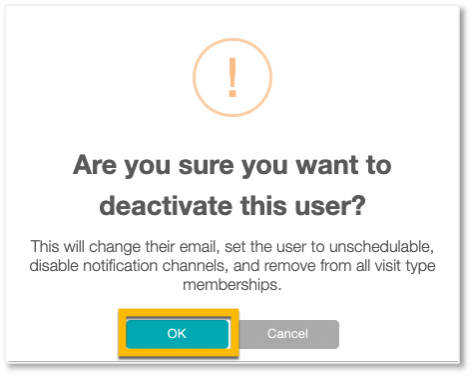 6. You will be taken back to the user's page. Confirm the deactivation was successful. There will be a green banner below the user's name confirming the deactivation, and the user's email address will have "_deactivated" embedded in it.


What happens to a user after deactivation?
First, let's review what will occur immediately after you deactivate a user:
The deactivated user will no longer be able to log in to eVisit, even if they try to reset their password.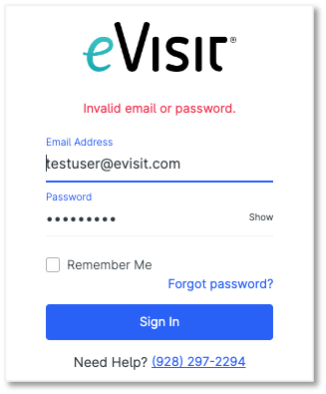 The deactivated user will no longer receive notifications from eVisit, such as visit cancellations or waiting room updates. You can confirm this by going to the Alerts & Notifications tab on the user's page and checking that "Is Active" is set to NO.


The deactivated user will no longer be visible and available for Scheduled and See Now visits. When patients and staff members try to search for and schedule a deactivated user, they will not appear, as their availability for scheduled and on-call virtual visits will be disabled.

The deactivated user will not be visible to patients and staff members because visit type memberships will be removed.
Note: Past data relating to the deactivated user, such as past visits conducted or the user was a part of, will not be impacted. Historical visit data and visit volume remains unchanged and patients will still be able to access any past visit details that involve the deactivated user.
Still have questions?
We're here to help! Please contact eVisit Technical Support at (928) 297-2294 or email us at support@evisit.com